Thermacell makes mosquito repellent products that repel mosquitoes without using sprays, creams, or chemicals.
Thermacell portable and stationary mosquito repellents work by creating an invisible 15 foot shield around you and your family.
Each device is powered by a unique fuel source and repellent mat combination that wards off intruding mosquitoes without the use of harmful chemicals such as DEET.
Are they worth the hype?
Mosquito prevention without greasy sprays and creams seems too good to be true.
We decided Thermacell's line of products was worth a full review. If mosquito bites can be avoided without using harmful chemicals, we're in.
Thermacell MR300 Portable Mosquito Repeller, Olive Green; Contains Fuel Cartridge, 3 Mosquito Repellent Mats; 15-ft Zone of Protection, 12 Hours of Mosquito-Free Relief Included; Deet-Free, No Spray
Radius Zone Mosquito Repeller from Thermacell, Gen 2.0, No Spray Mosquito Repellent; Rechargeable; Protect Outdoor Areas from Insects for 6.5+ Hours Per Charge; Easy to Use, Scent and DEET-Free
Thermacell Patio Shield Mosquito Repellent, Fiesta Red; Easy to Use, Highly Effective; Provides 12 Hours of DEET-Free Mosquito Repellent; Scent-Free, No Spray, No Smoke and Cordless, One Size
Thermacell Backpacker Mosquito Repeller, Gen 2.0; Protects 15' Zone; Runs on Camp Fuel Canister; Includes Water-Resistant Bag and 4 Repellent Mats for 16 Hours of Relief; DEET-Free; No Spray; 4 oz.
Let's take a look at Thermacell's offerings and see what makes them some of the best selling mosquito repellent products on the market:
1. Thermacell Patio Shield
The Patio Shield has been heralded by other pest control experts as one of the best backyard mosquito repellents.
We can't disagree.
At a price comparable to a large citronella candle, the Patio Shield is claimed by Thermacell to by 6 times more effective that 42 citronella candles (42! That's a lot of candles!).
Remember that you will have to replace the fuel cartridge and repellent mats, which make the Patio Shield work.
USER REVIEW: "I live in Jersey and have a small pond in my backyard – so a ton of skeeters. Set up 2 of these on my porch and so far have only been bitten once this summer."
Each fuel cartridge lasts 12 hours and each mat lasts 4 hours.
2. Thermacell BackPacker
If you often go fishing, or camping, the Backpacker is a great mobile mosquito solution.
While it takes up only a small amount of space in your gear, like its big brothers, it creates a 15 foot shield of mosquito protection.
A nice added feature is that it is effective at an elevation of 7,000 feet.
Provides 90 hours of repellency off of a 4 oz. gas canister that you may already have in your camping gear.
3. Thermacell Portable Mosquito Repeller
The Portable Mosquito Repeller uses the same technology found in other Thermacell products, just in a smaller size.
Like the Backpacker, the Portable Mosquito Repeller is a great option for those that enjoy outdoor activities like hiking, camping, boating, and hunting.
Weighing only 6.4 ounces, this option provides a 15 foot mosquito free zone for 12 hours.
It is offered in four colors: black, hi vis, olive green, and orange/grey.
What's Good?
No mosquitoes to clean up after operation.
DEET-free & odor-free.
15 feet zone of protection.
Fuel cartridge lasts up to 12 hours.
Affordable cartridge and mat refills.
What's Wrong?
Requires cartridge and mat replacements.
Cannot bring on airplane due to fuel cartridge.
Not as effective at higher altitudes.
Not recommended for indoor use.
How It Works
Thermacell mosquito repellents use heat to create an invisible, scent-free, zone of protection. They are powered by a small activated cartridge which provides cordless, portable heat, directed to a metal grill. Over this grill, a small mat imbued with a repellent is inserted, which disperses the repellent from the mat into the air, when heat is applied.
Thermacell comes in two power varieties:
Fuel-Powered
Battery-Powered
Let's take a look at the advantages & disadvantages of both technologies.
4. Fuel Powered Thermal Repellents
Fuel powered repellent uses a specific type of mat to repel mosquitoes. The mat contains 21.97% of Allethrin and 78.03% of other ingredients. They also contain petroleum distillates.
If you're fond of hunting, camping or just spending a lot of time outdoors in the fresh air, but hate dealing with mosquitoes, you can use a Thermacell fuel-powered mosquito repellent.
These models work by using heat activated repellent mats to create a zone which is scent-free. This zone keeps mosquitoes away, however, you need to wait at least for 10-15 minutes for it to fully activate and create a 15 foot zone around where you're sitting. The drawbacks of this repellent is that on regular use it can get pricey because of fuel-cartridge and mat refills.
5. Battery Powered Thermal Repellents
The Thermacell Radius Zone Mosquito Repellent, uses a lithium-ion battery instead of fuel-cartridges.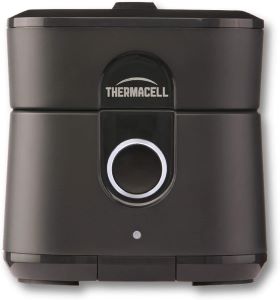 The repellent does need to be intermittently refilled. The refill contains Metofluthrin as an active ingredient to create a mosquito free zone. Two types of refills are available, one works for 12 hours while the other one lasts 40 hours.
The included lithium batters lasts 6 hours in a single charge. Apart from everything else, it is air travel friendly. While Thermacell's fuel cartridge models cannot be brought on a plane, the Radius Zone battery is acceptable. Also, it was voted as Grand Award Winner in Recreation for Popular Science's 2018 BOWN Award.
Thermacell's fuel and battery mosquito repellents are registered with the United States Environmental Protection Agency (US EPA). Thermacell over the past 20 years has protected millions of people from the harmful effects of insects.
Customers Reviews – How's It Stack Up?
We scoured online reviews and ran the Thermacell products by our readers.
The general consensus?
While it does cost some extra money to refill the cartridges and mats, most reviewers have found Thermacell mosquito repellents to be largely effective at keeping away mosquitoes. Of course, no mosquito prevention technique is perfect, but most reviewers have been happy with the results.
The biggest perk?
Fewer mosquitoes with no sticky sprays or creams.
Some people did report that when the repellent is first activated it gives off a very slight odor.
How To Use The Fuel-Powered Thermacell Mosquito Repellent?
Remove one Thermacell Repellent Mat out from the packaging.
Make sure the Thermacell Repellent is in the "OFF" position. Insert the mat in the appliance grill.
Remove the appliance cover.
Remove the butane cartridge cap.
Insert and rotate the butane cartridge in a clockwise direction to place it properly in the appliance.
Turn the "ON/OFF" button to the ON position to let the butane gas to flow.
Wait for 5-10 seconds and then press the start button 3-5 times in rapid successions.
To know if it's working, check for the glowing LED light at the top of the appliance.
How To Use The Battery-Powered Thermacell Mosquito Repellent?
Remove the refill from its packaging.
Make sure the repellent is in the "OFF" position and then insert the refill in it.
Check and attach the refill securely.
Press the ON button to start the repellent.
To know if it's working check for the glowing light.
Frequently Asked Questions
Can I use Thermacell Mosquito Repellent in Rain?
No, it is not recommended to use in the rain. When repellent mats and the appliance get exposed to rain they may not work effectively.
Can Thermacell Mosquito Repellents be shipped outside the US?
No, as of now they are only shipped within the U.S.
Can I take Thermacell Mosquito Repellent on a plane?
The fuel-powered repellent cannot be taken on a plane. However, the battery-powered Radius Zone can be taken on a plane.
How long does it take to activate and get fully functional?
It takes approximately 10-15 minutes to work at maximum capacity.
Any doubts? Drop in the comments below.