Bed bug mattress covers are encasement made up of strong plastic or clothing materials which prevent bed bugs from going in or coming out of a mattress.
Such covers are usually made from either polyurethane or polyester and protect the mattress from bed bug infestations. The density of the cover is instrumental in warding off bed bugs, which is why usually these covers are very thick.
There are hundreds of mattress encasement available in the market. I did my own research and testing to come up with curated list of products that works.
Before we go into extreme details, here are our Top best bed bug mattress covers.
Product
Utopia Bedding Zippered Mattress Encasement
SafeRest Premium Zippered Mattress Encasement
LINENSPA Zippered Encasement
Size
60 inches by 80 inches; 15 inches deep pocket
Queen Size 60" x 80" x 12"
Winner
Product
Utopia Bedding Zippered Mattress Encasement
Size
60 inches by 80 inches; 15 inches deep pocket
Product
SafeRest Premium Zippered Mattress Encasement
Size
Queen Size 60" x 80" x 12"
Keep in mind bed bug covers are not to be mistaken for simply being dense quality plastic or fabric covers.
These encasement are developed with technology especially for the purpose of keeping away bed bugs and then tested in laboratories for resistance against parasite bites.
Further Reading: Does mattress encasement works ?
Bed bug bites can turn into a nightmare if not controlled on time.
Such covers are highly specialized as protectors against bed bugs as they engulf the entire mattress quite snugly and the pests are unable to bite through them.
Even the zippers on these encasement are specially designed to prevent the entry or escape of any bed bugs through it.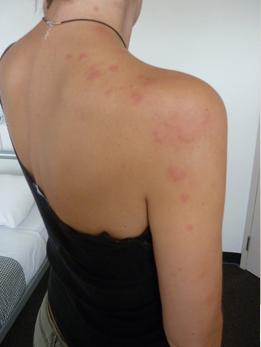 Other than being good at protection against bed bug a cover should additionally protect against dust mites, be waterproof, anti-bacterial and hypoallergenic.
Bed bugs are wingless parasites. They suck human blood during the night when a person is sleeping leaving behind red itchy bites on their prey's skin.
Penn Study Shows Bed Bugs Can Transmit Parasite that Causes Chagas Disease.
it is also known for causing quite a lot of discomfort due to itching.
It does not matter how clean a home is, bed bugs will invade any household they have access to regardless of its state of cleanliness.
A bed bug infestation can simply spread from bringing home even a single infested item inside, which can either be old furniture, suitcases or even infested clothing.
An infestation can even start if a nearby home in the neighborhood or an adjacent apartment has a bed bug problem.
Although human presence increases the risk of a bed bug infestation, even a vacant apartment or home with no human activity for months can be infested by bed bugs, since these pests can survive without feeding for long duration of time.
Now lets look at each product Individually and study its feature in details.
1. Utopia Bedding Zippered Mattress Encasement
Protects against bedbugs, dust mites and other pests
Covers a number of box spring mattress sizes
100% vinyl free knitted polyester
Contains Velcro guards and zippers
Waterproof, stain and odor resistant
Utopia mattress covers are high-quality box spring protectors and are available in a variety of sizes such as Queen, Twin and California King. The durable covers are made up of 100% polyester fabric along with a soft and breathable finish.
The knitted polyester encasement is stretchable over mattresses to fit them very well and comes with a zipper tight enough to keep out bed bugs. The fabric is resistant to tears or rips and can withstand quite a lot of weight pressure.
As a bonus the cover is waterproof due to an added film of TPU but does not make any shuffling noises when someone moves around over it. The polyurethane is breathable and blocks odors from coming into or coming out of the mattress.
The material is also supposed to be non-staining as it provides 100% protection against bed bugs, dust mites, and other similar pests.
The cover can even be removed and machine washed along with tumble drying. Utopia mattress covers are also vinyl, PVC, fire retardants and other toxic chemical free making them quite a safe option.
All these high quality features in the Utopia mattress cover come at a surprisingly low price. The mattress cover is also recommended for allergy sufferers and claims to provide comfortable sleep at night without any side effects of runny eyes or stuffed nose.
2. Linenspa Zippered Encasement
100% waterproof along with bed bug protection
The encasement fabric is sound proof
Lightweight cover fabric is easily washable
Hypoallergenic nature makes it safe for people with allergies
The Linenspa Zippered Encasement is known for being highly waterproof in addition to bed bug protection. The water-resistant encasement is made up of waterproof polyurethane material.
According to a majority of customer reviews, many users have purposely spilled water on it to see whether it will stay dry or not and it does stay dry. Others have lauded its ability to actually eliminate bed bug infestations.
Linenspa makes some fine quality mattress encasement which is offered in a variety of sizes.
However some users complain due to the waterproof nature the cover makes them sweat while sleeping on it.
The Linenspa zippered encasement is a hypoallergenic product and does not contain any irritants which may lead to an allergic reaction.
According to the manufacturer, the encasement is created using fabric technology which is tear resistant no matter how much someone tosses or turns on it.
The encasement is created using a vinyl-free synthetic polyester material and does not produce any crinkling sounds when people are upon it.
Although strong, the material has a lightweight fabric feel which not only keeps the bed bugs away but can be easily washed in a machine making it maintenance quite simple.
Due to the light nature of the fabric used the encasement has a very soft feel to it, yet it is very firm when it covers the mattress.
3. SafeRest Premium Zippered Mattress Encasement
Made with a breathable and comfortable cotton terry material.
Available in Twin, Twin XL, Full, Queen, King and California King.
Equipped with a secure zipper fastening technology.
Comes with a 10 year warranty.
The SafeRest mattress encasement is a tested product known to provide 100% protection against bed bugs.
The mattress case is a barrier against both entry and escape of bed bugs. The encasement fits all sides of a mattress tightly and does not crinkle.
The cover is stitched using a cotton terry mix material which allows the mattress to breathe and is resistant to dust mites and other allergens' meaning it does not provoke an allergic reactions in sensitive people.
Additionally the cover is also bacteria-resistant, so it repels any pests which may be carrying bacteria. The encasement zipper is designed to be small so it avoids the entry of any size of bed bugs into the mattress. The encasement is equipped with a secure zipper fastening technology called a Micro Zipper at the ends of the cover which prevents it from becoming loose over a long period of time.
Covering the mattress with this encasement is quite an easy process and can be easily done within two minutes. The encasement is available in a lot of sizes including Twin, Twin XL, Full, Queen, King and California King.
Standard features of the encasement include waterproof ability and machine washing ability. The SafeRest mattress encasement comes with a ten year warranty from its manufacturer.
4. Sleep Defense System Mattress Encasement
Made from breathable polyester knit fabric
The cover is hypoallergenic and suitable for people with asthma
Waterproof therefore anti-bacterial
Stretches up to 6 inches to fit mattress,
The Sleep Defense System Mattress Encasement is one of the original and most trusted mattress covers produced by the brand Hospitology.
The original sleep defense system is known for its high-quality products, as they have been approved by numerous medical institutes over the years using their lab tested results and proved that this product can keep bed bugs away.
The cover is made from a polyester knit fabric which is also hypoallergenic in its nature ensuring bed bugs do not survive in it. It is suitable for people suffering from allergies or asthma.
The cover is breathable and hence does not allow the mattress to heat up if someone is sleeping upon it.
Customers describe the firmness of the mattress as extra soft and smooth but not slippery.
If someone has a hard mattress the encasement is soft enough to make sleeping on it extra comfortable.
The encasement is equipped with a waterproof membrane which does not allow water to seep through it and therefore makes it also bacteria resistant.
A standard stretching ability of up to 6 inches and a competent zipper lock system is added in the cover. Sleep Defense System can fully eliminate bed bug infestation in a mattress within a few months.
5. Sure Guard Mattress Encasement
Made with a soft cotton material
Comes with a invisi-Zip and SureSeal technology
Hypoallergenic to people with allergies
100% waterproof
10 year warranty
Sure Guard is one of the best bed bug mattress encasements available which provides protection against bites throughout the night. One of the best qualities of this mattress encasement is its ease of maintenance as it can be machine washed and dried very easily.
The mattress cover is made from a high-quality cotton material which is able to block all sorts of bacteria and dust mites. The use of cotton makes this encasement extra smooth and comfortable.
The softness of cotton also allows for the product to be neutral to the touch as there is no presence of Vinyl or PVC. Cotton also makes this encasement perfect for people with respiratory and allergy problems.
Cotton also keep the mattress smooth with users describing the feel of their original mattress even when cover is on. The mattress is constructed in a way to ensure all six sides of the cover encase the mattress entirely.
This leaves no room for bedbugs to enter the mattress. The encasement is equipped with a zipper made with the invisi-Zip technology which claims to reduce any chance of bed bugs even sitting on the surface of the zipper.
Similarly the SureSeal technology provides extra protection as it seals all exposed edges of the mattress. Standard features include waterproof ability along with a 10 year product warranty.
Frequently Asked Questions
Why do bed bugs live in mattresses?
Bed bugs are one of the tiniest and most difficult pests to get rid of which pose a tremendous risk to a person's sleeping environment.
If suddenly out of nowhere someone wakes up with red blotchy bites all over them then they have a bed bug infestation, most probably within their mattresses.
Simply finding a bed bug infestation in one's mattress is not good enough. Getting rid of bed bugs from mattresses is actually quite an ardent process.
According to the US National Conference of State Legislatures (NCSL) bed bug policy about 70% of bed bugs in an infested house hide specifically in the mattress or nearby bedding furniture.
Mattresses are considered an ideal site for bed bug infestation, since they are warm and soft providing the compatible temperature and ease of crawling in and out for the bloodsucking pests.
Moreover the folds of mattresses virtually receive no sunlight at all, thereby providing a dark hiding place for bed bugs year round.
The biggest attraction mattresses carry for bed bugs is their role as sleeping havens for humans.
Other than providing the preferred conditions for bed bugs to thrive in, infesting mattresses gives these pests the shortest access to their prey.
Even if all the bed bugs in sight are eliminated a lot of them can hide inside the folds of the mattress. Especially bed bug nymphs and eggs remain encased and hatch later on thereby restarting the cycle of an infestation.
There are two main purposes of using bed bug mattress encasements:
Preventive measure for a new mattres.
Protection and treatment of an old infested mattress.
Covering a newly bought mattress with a bed bug encasement is simple and straightforward; however treating an old infested mattress requires quite a lot of treatment before it can be encased.
Before covering a mattress with an encasement make sure to treat it properly.
How long does it take for covers to kill bed bugs inside a mattress?
According to the EPA covering a mattress with bed bug encasement for at least a year can kill all of the parasites inside it.From the moment the cover is put on the mattress it should be left on for at least an entire year so all of the bed bug nymphs or eggs left inside it die from a lack of nutrition.
How to remove bed bugs from a mattress?
Physically removing bed bugs from a mattress is a time-consuming and arduous process. An infested mattress should first be vacuum cleaned to remove all traces of bed bug feces, dead bodies and eggs.
Afterwards a pesticide should be used to kill any remnants of bed bugs from the mattress. For mattresses bed bug killing sprays are recommended in the form of either liquid or even aerosol.
A step by step process of how to deal with a bed bug infested mattress is given below:
All removable items such as sheets, pillowcases, covers and any other bedding item should be removed from the mattress and placed in a garbage bag to avoid contamination of other items in the way. The items should be unloaded only in a washing machine filled with hot water and pest killing detergent.
The mattress should be vacuumed very carefully and thoroughly with special care over areas where bed bugs might be hiding such as seams and indentations. Afterwards it is advisable to empty and clean the vacuum cleaner bag outside the house and then treated with pesticide spray to kill any remaining bed bugs.
The mattress should be sprayed thoroughly using a special bed bug killing pesticide spray. There are many options and brands when treating a mattress with a spray; liquid or aerosol bed bug spray. Care should be taken to let the mattress dry before bed bug proofing it with the help of an encasement.
After encasing the mattress it is better to treat the bed frame and headboards with a spray so as to kill any remaining bed bugs hiding in the wood. For added protection bed bug traps can be used underneath all of the legs of the bed, so any fleeing or newly arriving bed bugs can be trapped in them.
As a precautionary method it is recommended to use sheets without any bed skirts or wide blankets which reach the ground, and may provide passage to the bed bugs so they can climb atop the bed.
Tips for picking the right kind of bed bug mattress cover
Picking the right kind of bed bug cover for a mattress is an entire process in itself. Still it is possible to pick the right kind of cover for yourself if you know what and where to look for it. Some useful tips for picking the right kind of mattress cover are:
Density of Material:
The density of the material used to create the cover is very important when it comes to protecting against bed bugs. The denser the cover, the better it is.
Similarly the cover should be smooth to the touch and should not rustle while a person is sleeping on it. However even an extremely cover can be problematic and should not be smooth to the point of being slippery.
Zipper Quality:
A state of the art zipper with the ability to seal the mattress completely inside is quite necessary in a bed bug cover.
Always choose a cover with a zipper, never opt for one with buttons or any ties. The zipper should be specially created to have teeth that are extremely close together and prevent even the tiniest bug from coming in or escaping out.
Similarly the presence of a zipper stop end is also very crucial to prevent any accidental opening in case of added pressure or weight on the mattress.
Size:
When picking the right encasement for a mattress, close attention should be paid to the size of the cover. A bed bug cover is supposed to fit a mattress snugly like a glove.
This is where the measurements and depth of the mattress cover come into question. The cover should be able to stretch so it can fit a mattress
Avoid Chemically treated mattresses:
It is preferable to avoid buying chemically treated bed bug covers for mattresses while shopping.
Such covers are soaked with insecticides in order to repel bed bugs and killing an already existing colony inside it, however, there is no guarantee they kill bed bugs in such a way.
Likewise, these covers are hazardous for human health as they expose the people sleeping on it to chemical insecticides which can prove to be toxic.
The insecticides can be absorbed via the skin and lead to slow poisoning. Hence they are not recommended for use as they can cause more harm to a person's health than even bed bug bites.
Handmade Mattresses:
Do not buy handmade bed bug covers. No matter how eco-friendly or safe they promote them to be they cannot be as efficient as factory made covers in protection against bed bugs.
Handmade covers are not created using any bed bug repellent technology and can have multiple flaws. In case of handmade covers there is no guarantee of durability and the material used may have a pore size wide enough for bed bugs to squeeze through.
Similarly, special zippers which prevent accidental opening may also be absent or might not work as efficiently as factory made covers.
Vinyil Mattress:
Make sure to avoid buying bed bug mattress covers made using Vinyl.
Mattress covers made using vinyl can be torn very easily therefore buying a product which indicates it is vinyl free is preferable.
Some bed bug covers indicate they are vinyl free and are thus recommended.
Albeit treating a mattress infested with bed bugs is not a difficult process but it is a long one.
For people short on time it is always better to call in a pest control professional to deal with the problem.
Similarly, a professional has more experience dealing with the problem of eradicating bed bugs to determine if an already infested mattress can be saved with the help of a cover or not.
Any thoughts? Comment down below.